Split times, split teams: Spring Track team divides for meets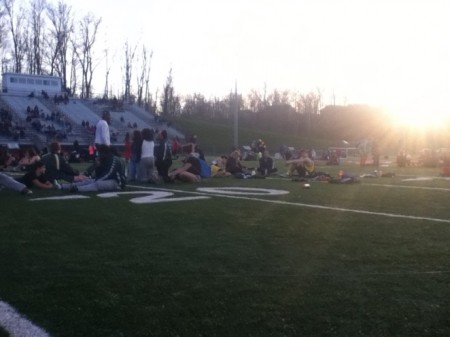 Track and field is generally a more dynamic sport than others. Instead of games or matches where contributing to the team is the single focus, track athletes must be slightly more independent in their isolated events.
Aiding the team relies more on individual efforts than in other spring sports. This idea has been put to the test with the 2014 team, which consists mostly of freshmen and sophomores.
In the midst of changes in age majority, as well as the addition of three new coaches, another new experience was added to the schedule: split meets.
The goal of the division was to tackle two opportunities within a short time frame: the Mount Healthy Invitational and the Ben Davis Relays two days later.
The girls Varsity A team, as well as the boys JV and Varsity B teams, traveled to Mount Healthy on Thurs., Apr. 17.
"I was impressed by how well our girls did. Despite some disorganization in how the meet itself was run, we did what we went to do," said Mr. Hank Ray, head coach.
The boys Varsity A team reserved themselves for the meet on Sat., Apr. 19, at Ben Davis High School in Indianapolis, Indiana. Saturday meets themselves are rare in the spring track schedule, let alone trips outside of the state.
"It's definitely a big change. It's mostly a relay meet, so I'm guessing it's replacing the SHS Golden Batons," said Ryan Stoneberger, 12, before the meet.
"I can't really gauge how it will be, but I'm excited to go and see different competition."
Different competition certainly appeared, according to the athletes when they returned.
"We went up against some top-notch athletes in the state of Indiana. It showed us where we are as far as a team. We are talented, but young, and we still have a lot of growth to do," said Ray.
"We did go and compete well, but it was a little bit of a culture shock to see such different talent."
Ray also noted that the atmosphere was different without the full team at either of the meets.
"It felt weird without our girls competing in Indianapolis, and it felt weird without our Varsity boys at Mount Healthy. The team dynamic will be back to normal at Springboro," said Ray.
Varsity will be competing at the Springboro Invitational at Springboro High School on Fri., Apr. 25.