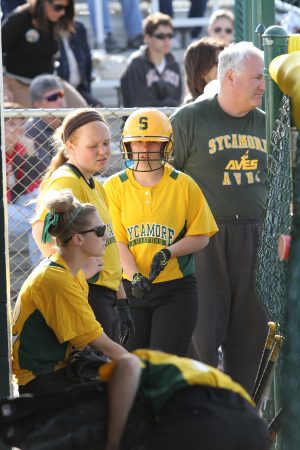 Spring sports are coming to an end, but SHS softball still has two games left. They also have the tournament that will guarantee them one more game.
Their record currently is 11 wins 12 losses. The girl's last two games have been tough losses. The first loss was against Hamilton. It was on Senior Night and the game started with an announcement of each girl and the legacy they were leaving behind them.
The senior's parents then walked them down the field to home plate. Where each of them were given a ball that their daughter had written a note on for their parents. They took the ball and threw it to their daughter.
"Senior Night meant so much to me I had been looking forward to it all my years of playing softball. It also meant a lot to my dad which made it even better for me," said Kathryn Eberhart, 12.
Story continues below advertisement
After this the girls would loose the game ending the night on a disappointing note. The next game they played was against Turpin, which they also lost. This really brought the team down more than they had been all season.
The next game the girls play is against Fairfield at home. Winning this game is crucial for the girls to get their confidence back. For more information on the softball teams season visit the GMC website.