The varsity baseball team has never won the Greater Miami Conference Championship. This year, their record shines bright at 14 and eight and they sit in third place behind Mason and Lakota West, respectively.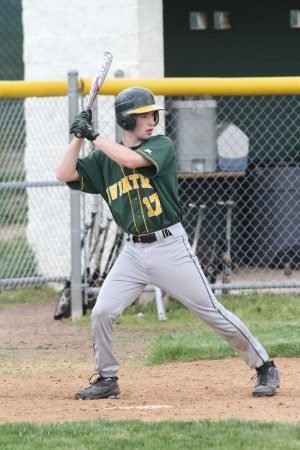 For the last two years, Mason has dominated the conference going a combined 46 and nine and winning the last two conference championships. Previous to that, the conference title was shared by Lakota East and Lakota West.
"Every year, Mason is one of the toughest teams to beat, we just have to find a way to beat them if we end up playing them, said Andrew Size, 12.
Before the start of the 2014 baseball season, SHS hired former player/student Josh Mason to help right the ship after a disastrous 2013 season, where SHS went a dismal five and 18.
Story continues below advertisement
SHS opened the season up on Apr. 1 against the Colerain Cardinals and won seven to five and that spurred a stunning seven game winning streak that included key wins against Goshen, Middletown, and Lakota East.
"I was not really shocked when the team went undefeated in the first seven games because I know if they play great ball they can go really far," said Benjamin Grossheim, 9.
Following that unbelievable winning streak, SHS lost the next five games. They were outscored 37 to 17 by a trio of teams including Hamilton, Fairfield, and Mason.
At the time, SHS was sitting at seven and five and preparing for a dangerous Carlson, MI baseball team to come to town. The team beat them ten to zero behind dominant pitching by Mathew Groene, 12.
At the beginning of May, the team's record stood at eleven and seven. They were still sitting in the top half of the division with such a great record.
SHS is three and one in May with the one loss coming to Lebanon. They beat Oak Hills and have beaten Princeton twice.
The team is gearing up for the final two games of the season against Lakota West. SHS lost the first game five to three and have another game scheduled for May 9 at home against them as well.
Coming into this week, Lakota West was 20 and three. They have been dominating their opposition only losing to Mason, CHCA, and Oak Hills.
At the end of the season, all of the GMC teams play in the conference tournament. Currently, SHS is scheduled to play Milford on May 9.
"It doesn't matter who we play, I know that we can do some serious damage in the playoffs," said Grant Price, 12.