Sterling receives lifetime ban, has cancer
To say the Los Angeles Clippers have been through a lot is an understatement. The week that saw the Clippers secure a series win over the Golden State Warriors also saw their owner Donald Sterling, banned for life and fined two point five million dollars.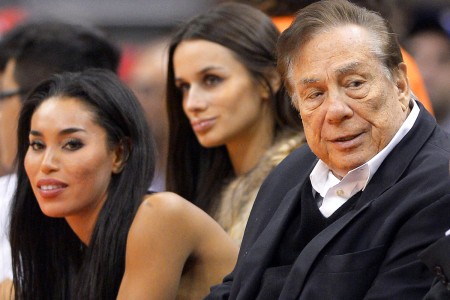 He was fined for racist comments that he made to his girlfriend over the telephone. In these comments he voiced his displeasure that his girlfriend advertised her association with black people.
"You can sleep with [black people]. You can bring them in; you can do whatever you want.  The little I ask you is not to promote it on that … and not to bring them to my games," he said on the recording that was released by TMZ.
This was immediately followed by intense reaction around the league including when Magic Johnson said that he would not attend another Clipper's game as long as Sterling is the owner.
It was also found out later in the week that Sterling has been battling prostate cancer for an extended period of time. This was new information to even the players who some said didn't even know he had cancer.
Then on Wednesday, April 30, NBA Commissioner Adam Silver came down with the harshest penalty possible under current rules. Sterling will not be allowed to participate in any activities involving the Clippers and is not allowed to be present at any games, facilities or any branch of the Clippers organization for life.
He then also said that if the owners gave a three-fourths vote that Sterling would be forced to sell the team. The NBA's ten member finance-advisory committee held its first meeting about the Sterling issue on Thursday May 1, in which they unanimously agreed to move forward as quickly as possible with the termination of Sterling's ownership.
After they try to get Sterling to sell the team, there is the matter of finding someone else to buy it. There have been multiple names mentioned including:
Ownership group including Oprah Winfrey, David Geffen and Larry Ellison
Floyd Mayweather Jr.
Sean Combs
Rick Caruso
Magic Johnson
Donald Sterling's wife though believes that the team is rightfully hers since she has co owned the team since 1981 and has remained publicly visible since the release of her husbands racist remarks. She has said that she has no plans to sell the team and believes her husband's lifetime ban and $2.5 million fine do not apply "to me or my family."
Sterling has since only spoken once on the topic and has remained mostly silent except with one interview he gave with  DuJour magazine. "I wish I had just paid her off," Sterling said when asked about  V. Stiviano, the women who leaked the tape to TMZ.
This is not the first instance in which an owner has been forced to sell. Marge Schott, a former owner of the Red's in 1990's was forced to sell the franchise after she called her star players, Eric Davis and Dave Parker, a series of derogatory words.