Boys lacrosse conditions for excellence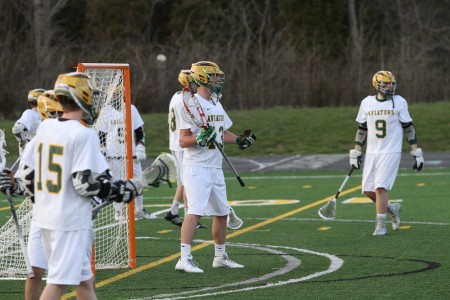 Teams of 100 to 1,000 people squaring off in a symbolic war does not sound like a modern day sport. However, lacrosse, as played by its inventors, the Native Americans, was played in this way.
Lacrosse today may lack the symbolism and size of ancient lacrosse, but both are similar in that they both require physically tough and strong individuals to play.
Physical fitness was a priority of first year coach Kevin Hess, who made sure his team was conditioned for the season. From late Fall to early Spring Hess put his team through a rigorous exercise regiment.
"Since last year, off-season training has become more physically demanding. Coach Hess has taken training very seriously, and has really gotten our team stronger and more fit," said Kevin Fitzgerald, 10, JV A captain.
The Varsity team has experienced a bit of hardship, however. Team captain Sean Cliver, 12, was injured in a game against Mariemont.
"To me lacrosse is more than a game and the team is more than a team. All those players are my family so cheering on the sidelines is the last thing I want to do," said Cliver.
Cliver tore his ACL and meniscus and will eventually need surgery. He intends to try and finish his senior season after two weeks of physical therapy.
"As a captain, cheering and coaching are what I have to do at the moment because that's where my team needs me. But I'm hoping to be back out there soon with my brothers," said Cliver.
Varsity goalie Mark Reinhart, 12, was also recently injured in an Apr 7 game against St. Xavier.
Reinhart got stepped on in front of an uncontested shot. His ribs flexed instead of breaking, and slammed into his spleen. The official diagnosis was a grade 3 (out of 5) lacerated spleen. He was told he would be out for the season.
"I was devastated, but I accepted it pretty well after a few days at the hospital. It really hit me though when I went to our next game and saw all of my team-mates playing without me. I've been going to every practice and every game, because my team is my family, even if I can't play," said Reinhart.
With the end of the season approaching, the teams are ready for the state tournament. Varsity has to win a certain amount of games to qualify for the state tournament.
"We have a few more games left to fix our problems and come together as a team for the state tournament. We will see whether or not we've been successful in our last game against Mason," said Fitzgerald.