Quiz: What music would you like?
There are many different genres of music, ranging from classic rock to classical music. Music can tell a lot about who you are as a person and sometimes it is hard to find out what kind of music you would like. Take this quiz to see what genre of music is the best fit for your personality!
1)      What is your favorite color?
A)     Anything neon!
B)      Black, black, black!
C)      Cool blue
D)     I don't know
2)      If you were going out, what would you wear?
A)     Skinny jeans
B)      Ripped up jeans
C)      Flowing skirt or dress
D)     Baggy sweat pants
3)      If you were going on vacation, where would you go?
A)     New York City, Times Square!
B)      The mountains
C)      The beach
D)     A city
4)      Which band or artist would you like to meet?
A)     Jason Little
B)      The Rolling Stones
C)      The Lumineers
D)     Eminem
5)      What pet would you rather have?
A)    Robot dog
B)     Pet rock
C)    Dog
D)    Snake
If you got mostly A's you should try listening to techno music. You have a uniquely modern personality. Try listening to Greg Notill, Umek, and Koen Groeneveld.
If you selected mostly B's you are a rocker! You're edgy and tough personality would make you great for classic rock n' roll. Aerosmith, Led Zeppelin and Pink Floyd would be perfect for you.
If your answers were mostly C's you like alternative music with a folk twist to it.  You would enjoy listening to Mumford and Sons, Of Monsters and Men and The Head and the Heart.
If you got mostly D's, you are a Rap lover. Your confident personality and love for upbeat music makes you a perfect candidate for Rap music. Try artists like Jay-Z, Kanye West and Snoop Dogg.
About the Writer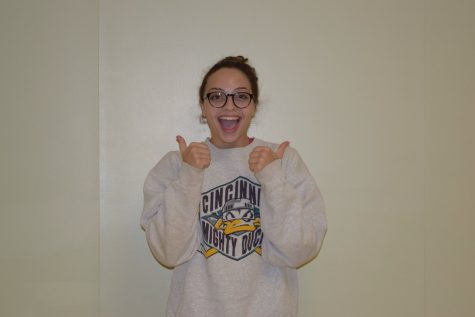 Hannah May, Executive Editor-in-Chief
Ordinarily, when meeting a new person I extend my hand for a politely firm handshake and introduce myself with the following "Hello, I'm Hannah May,...