"It's so great to see her transition into this next stage of her career," said Elli Gibson, 11.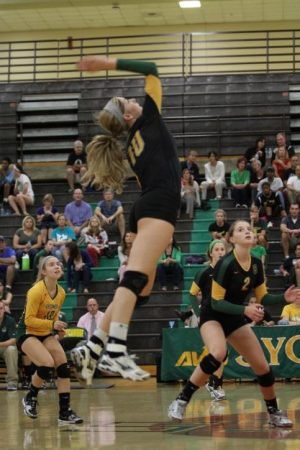 On May 16 Laura Cole, 12, will sign to play volleyball for Emory University in Atlanta, Georgia.  Cole has played the sport since grade school and played Varsity all three years she was in the Sycamore district.
"She is an amazing hitter and blocker and it was such a great experience to play with her and her sister over the last few years.  We are wishing her all the best luck and know she will do great at Emory," said Courtney Cron, 11.
Cole played as a right sider hitter for the Varsity team this past season, but she also has the capability of playing outside hitter which she plays on her club team and possibly at Emory.
Story continues below advertisement
Cole admitted that before the start of the school season, she was hesitant about playing in college, but after an exciting season with wins against Loveland, Fairfield, and Fenwick, she told her team at the end of the season that their season reminded her why she loved volleyball.
"That was a really touching moment for all of us, because we know that we were part of reaffirming to her that this sport is what she was meant to do," said Gibson.
Cole is extremely excited to get to experience volleyball at a college as well as a new city.  While this will be the first time she and her twin sister Julia Cole will be apart for the first time in their lives, both are eager to continue this next chapter in their lives.
"I can't wait to be watching TV one day and see Laura playing and get to tell everyone that I played with her in high school.  She's going to do great things and I 'm so glad I was there with her along the way as she developed into the great player she is today," said Cron.