Gold tennis aces Greater Miami Conference Title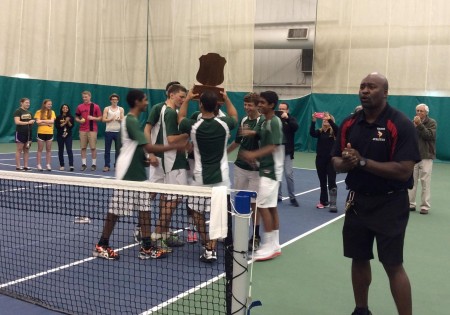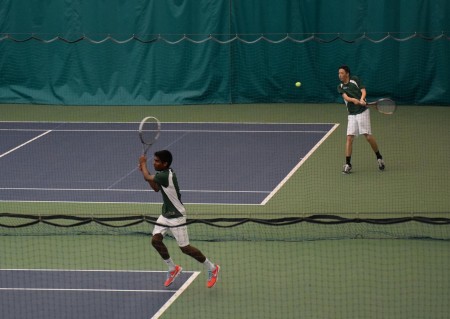 After finishing undefeated in Greater Miami Conference (GMC) play, the Varsity Gold team partook in the GMC tournament held at Mason High School on May 8 and 10.
SHS and Mason dominated the tournament on the first day, as both teams swept all of their matches. It was bound to happen again, as the two teams played each other for a second time
"We were pumped about our first day of the tournament. To go without losing any matches, and even games were impressive. We knew that we were at our best going into the finals," said Aditya Venkitarama, 11.
Due to the rain, the match was moved indoors to Mercy Fairfield Healthplex. Both teams were eager and excited for their second meeting of the year.
"Whenever we play Mason, we have extra fire in our eyes. I think it is just because they are our rivals and we want to do everything we can to win," said Alex Taylor, 12.
In the end, SHS defeated Mason 4-1. Nakul Narendran, 11, and Taylor provided the first two wins at the singles position, then the doubles teams of Noah Stern, 9, and Ahmad, and Alexander Wittenbaum, 11, and Venkitarama wrapped up doubles.
"Two years in a row of coming in second place behind Mason stung, and putting an end to that streak was quite the rewarding feeling. It felt amazing to finally be able to hold and hoist the trophy," said Narendran.
The team will compete in sectionals on May 13 and 17, and will continue to play OCTA State Team tournament matches on dates to be announced. Check out Aves10s.net for more information.
About the Contributor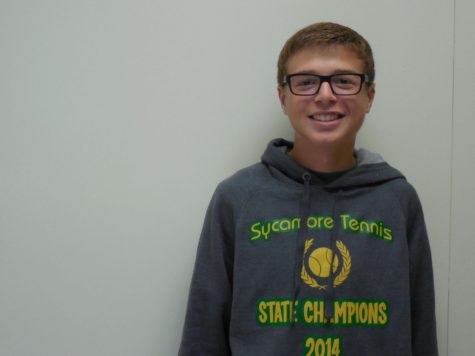 Alex Wittenbaum, Sports Chief
I am a senior on the Leaf Staff and I hold the title of sports chief. I manage the Sports Center section on shsleaf.org and help design and write for the...