Track strides toward post season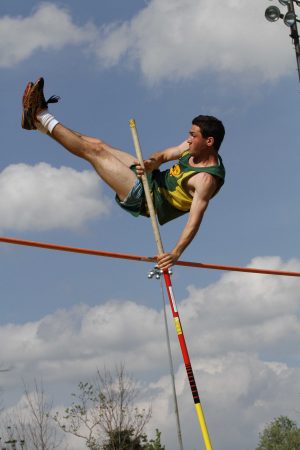 May is labeled one of the more 'crazy' months, up with November and December with busyness. It is the last four-week stretch before the end of school, filled with AP exams, projects, and for the track team, the post season.
"This is my favorite time of the season. This is when it counts. This is when we go to bigger meets, face bigger competition, and reach our peak," said Mr. Hank Ray to the team during practice in late April.
The schedule for the month begins with a smaller meet at Walnut Hills on the second, in which the boys team placed first.
The Varsity athletes then transition into four weeks of intense competition, moving from the Mason Invitational on the ninth to the Greater Miami Conference (GMC) meet the fourteenth and sixteenth.
"Going into the league meet for the girls is more challenging because of the inexperience levels of our runners. Regardless of our talent levels, however, we should always place top five in the league meet," said Ray.
"Realistically, our boys have a good chance of winning. If they do the right things, with a little bit of luck and competition between other teams, they could be the first boys track team to win the league."
After GMCs begins the post season, moving in three consecutive Wednesdays and Fridays through Districts, Regionals, and eventually the State competition.
Athletes can qualify through each level by placing in the top four of their event- an increasingly difficult task. In order to overcome that obstacle, track athletes like Katherine Vorpe, 10, focus on the small things.
"I do my best to keep the mindset that I am ready to compete. When I go into meets, I go to challenge at least one person," said Vorpe.
In preparation, the track team has been balancing hard workouts with easy conditioning to keep their bodies in prime condition.
If a meet is on Friday, the harder runs normally occur on Monday and Tuesday, with Wednesday and Thursday available for active rest and skill set focus. This helps with managing common smaller injuries like shin splints and muscle strains.
"Big injuries are tough- you can't do anything about them. All we can do is reinforce our athletes to get therapy so that when they can come back, they can be ready to compete," said Ray.
Those who are healthy are contributing; most are competing in two or more events. It all leads into the end of the season and post season- a buildup that started for many back in November and may go until June.