Book nook of Katelyn Young, 10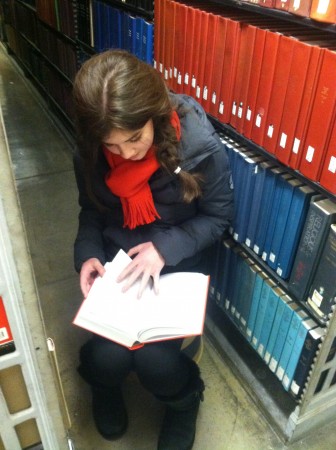 Q: What was your favorite childhood book?
The Junie B. Jones series by Barbara Park. I loved those books; that is what got me into reading.
Q: Who was your first literary crush?
I cannot really pick, I have too many but one of my ultimate favorites is Will Herondale from the Infernal Devices series by Cassandra Clare.
Q: Who is a character you wish you were more like?
Hermione Granger from the Harry Potter series because throughout the entire series she was always so brave and smart.
Q: Who is a character you are most like?
Tessa Gray from the Infernal Devices because she loved books so much and could read for hours and was so passionate about books, like me.
Q: What is your favorite popular book?
I would have to say "Catching Fire" by Suzanne Collins.
Q: What is your favorite obscure book?
"Legend" by Marie Lu or the entire Infernal Devices series. Both of these books are in my top five favorite books. The characters are written perfectly and so is the plot. It truly takes you to another world.
Q: What is the last nonfiction you enjoyed?
"Glass Castle" by Jeannette Walls. That book kept me intrigued the entire time with jaw dropping moments and an insane family.
Q: What is a book you can't wait for?
"City of Heavenly Fire" by Clare again. The Mortal Instruments is one of my favorite series ever and it is the last book. It comes out May 27.
Q: What book that is special to you (and why)?
All books are special. I haven't really thought of just one.