Sycamore boys lacrosse fights hard against Mason, ready to dive into post season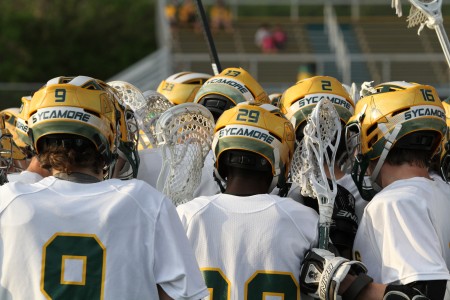 Games against Mason are often toward the end of the year, and often mean that athletes are in for a long, competitive game against a good team. The May 16 Boys Lacrosse game against Mason was no exception.
"Mason is always a good competitor and we always get pumped to play them," said Kevin Fitzgerald, 10, a Varsity lacrosse player.
The May 16 lacrosse game against Mason was especially competitive because it was the last game of the 2014 season.
"It was a really good game, honestly one of the best we've played this year. I'm really happy with how we played as a team. Obviously the result could have been better though," said Fitzgerald.
This go around the team did not come out on top, losing 6-3. The game was close throughout the first period, but Mason pulled out in front during the last two, and were able to maintain their lead.
"Losing sucks but hanging in there with a team that beat St. Xavier by four is not bad at all. If we had fixed a few minor things we could've won that game," said Sean Cliver, 12.
The team has now concluded the regular season with a 9-7 record. They are ready to enter the post season tournament with a May 22 game against Springboro.
"We're ready for the post season. That game got us excited, and we want the chance to get revenge for that tight loss," said Fitzgerald.