Kicking up dust: Track sweeps individual awards
The Greater Miami Conference (GMC) meet signifies the culmination of the entire season. It is the final, more team-focused competition before the more individualized post-season.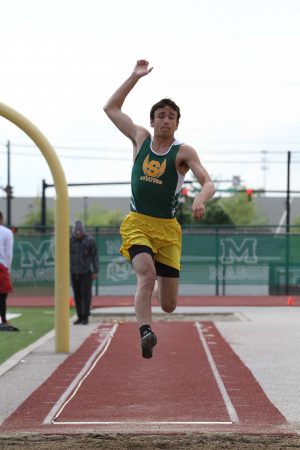 Three awards are given in addition to the team trophies: Runner of the Year, Field Event Athlete of the Year, and Coach of the Year. The ten GMC coaches vote on the awards in order to determine the recipients.
For the 2014 season, SHS swept all three awards. It was the second consecutive time of winning the Coach of the Year award for Mr. Hank Ray, head track coach.
"It's an exciting feeling to know that the other coaches of the GMC see the product you put out on the field. I told all my runners that this award signifies the work they've done," said Ray.
At the moment of the announcement, he gathered his team to make sure they understood his priorities.
"I wanted my athletes to be recognized. It's flattering to be recognized, but it's not about me- it's all about the team. I would give that award back 100 million times for the GMC championship," said Ray.
As for the athletes, the Field Event Athlete of the Year was given to Todd Lewis, 12, while the Runner of the Year was John Vuotto, 12. Vuotto had spent the previous season recovering from a punctured lung.
"It felt like all my hard work has finally paid off. Last year, I was building back up and just trying to finish the races rather than win them. Now it's about how well I can do," said Vuotto.
The girls finished third in the GMC, surpassing their previous goal of top five. The boys, however, placed second. Their goal had been to win.
Though the results added a bittersweet mood to the end of the meet, the athletes still find pride in the performances they gave. They "showed up," as Ray put it.
"I like our team because they don't just do track to hang out with their friends. Everyone has the drive to win," said Vuotto.
For complete results, visit gmcsports.com.