Aves Theater students prepare for senior skit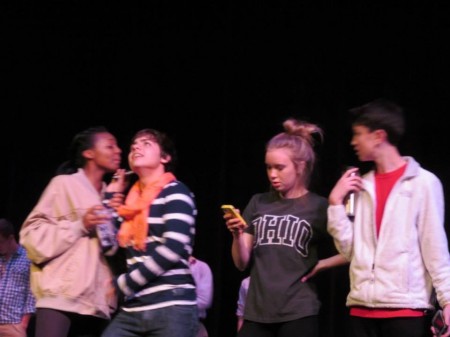 Every year, students involved in theater at SHS look forward to the end of the year Aves Theater awards. It is a great time for awards and recognition, but the activity people look forward to most is something called senior skit.
"I wrote senior skit last year and it was great. I'm really excited to finally see how everyone else portrays our class," said Elizabeth Rosenberg, 12.
Senior skit is a tradition in which a couple of juniors write a skit that involves all the seniors who are involved in theater. Then, underclassmen act as the seniors at the Aves Theater Awards, creating a great time for everyone.
"I'm a little concerned about how people are going to portray me, because I think that my personality is complicated," said Jamie Ross, 12.
Samantha Circillo, Jennifer Adamac, and Isaac Goldstein collaborated to come up with what they hope to be the best senior skit so far. On May 26, a cast of 21 students will perform in the SHS auditorium for all of the anxious seniors.
"I was so excited when the seniors chose me to write senior skit this year. Jenn, Isaac, and I have put in a lot of work, and I believe the seniors are going to love the outcome," said Circillo.