Fear is only false evidence against reality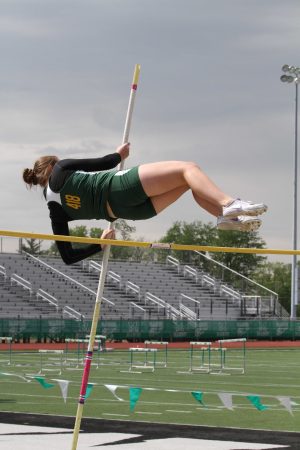 Spring track has transitioned into its post season, with the most recent competition of the District Championships at Mason High School May 21 and 23, in which the boys placed second overall.
I competed in the pole vault, and though I am incredibly happy to say that I have qualified for the Regional Competition, I have also come to grips with something much more discomforting: I am afraid.
I have been struggling to clear 11 feet in competition. That is not because I cannot do it physically- I have been practicing closer to 12 feet- but mentally, I have been stopping myself.
Many times, it takes someone else to help me understand myself. In this case, it was my dad. He helped me realize that I do not fear clearing the bar, but rather not clearing it.
I am afraid of the idea that I am not capable of achieving something more, that my personal record will remain lower than my potential.
That, I think, is something all athletes struggle with. Coaches, friends and family encourage us with the potential they see. We, in turn, strive to reach that potential we see as well, to become 'the best.'
But fear is always there. Fear that all the work, all the encouragement, all the pain will not be enough.
If we let ourselves be guided by fear, then it won't be enough. It's ironic: I fear failure, and so failure is the result.
There is a saying: "You can do anything you put your mind to." We forget, however, that the opposite is also true; especially in pole vault, the mind determines when you will stop.
So I must change. Instead of focusing on what will happen if I don't clear the bar, I focus on what it will feel like when I do clear 11 feet.
The cheers, the smile, the joy of looking up and seeing the bar resting undisturbed high above me, the thought that no one can ever take away from me: "I did it." Those three, simple words are now my goal.
More than that, my goal is to go to the State meet. I don't care how I place once I get there- I just want the feeling of being among the top vaulters in the incredibly athletic state of Ohio.
Therefore, I do my best to focus on the success of those goals. If I know that I can do it, to the deepest part of my heart, then I will.
I think that principle, that shift of focus, is what separates the good from the best. Whatever the statistics, champions strive to satisfy themselves, to say "I did it."
Fear can only take you so far. Hope is what carries you through the whole race.