Flyerettes starts jazzy recruiting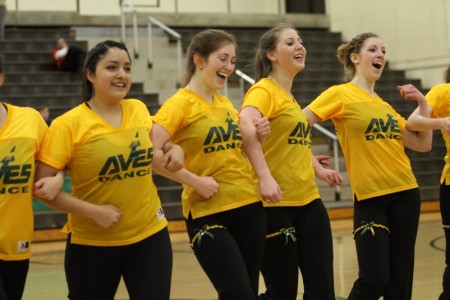 With less than two weeks away from tryouts of SHS' dance team, the seven remaining underclassmen need to fill 12 vacant spots of the leaving seniors.
"These girls definitely have big shoes to fill compared to us last year where we only needed to replace one leaving senior," said Sam Weiss, 12.
The remaining Flyerettes are:
 Making a video
Putting up flyers at SHS and SJHS
Spreading the word
"Getting seven people together for one day was is tough. We have homework, sports and other commitments outside the Flyerettes. I love that we all are involved in our school and beyond but coordinating got tough," said Calista Robbins, 10.
For the video Robbins, Leah Brod, 11 and Kathryn Tenbarge, 11 worked together to choreograph three eight counts by pulling parts from previous dances and making up their own moves.
Tenbarge used pictures of team members and gave the tryout and contact information with a remix of Miley Cyrus' "Wrecking Ball" as background music.  When completed, the video will be sent to SJHS for them to show.
"Incoming freshman and current high school students have to know about us for them to try out for us. Getting the word out two weeks early helps our chances," said Brittany Grecco, new Flyerettes coach.
30-30-30
Lauren Kurtzer