Seniors shine in orchestra concert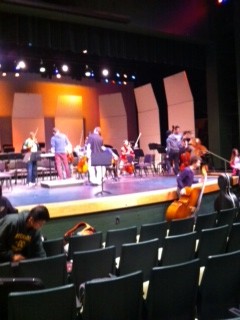 Orchestra and band members will accompany talented seniors Shoyo Hakozaki, Jacob Wang, and Andrew Leonard in orchestras senior spotlight performance on Thurs. Oct. 16, 2014.
Hakozaki, section leader of the celli, will perform "Ungarische Rhapsodie" by David Popper. Wang violinist and concertmaster, will perform the Dvorak "Violin Concerto Op. 53", and Leonard, a first violin, will perform "Theme from 'Schindler's List'" by John Williams.
"[Soloing] is freaking terrifying. I'm an actor, but it's a lot scarier playing on stage for violin. Mr. Smarelli helped me improve a lot though, and I'm really proud of what the audience will hear," Leonard said.
The orchestra will also play "Part of Your World" from "The Little Mermaid," "Catskill Legend," "Allegro Moderato" from Mozart's "Symphony No. 29 in A Major" and a medley of songs from "Frozen."
Student conductor Bailey McCarthy will conduct "Part of Your World." Every year a few seniors receive conducting instruction from orchestra director Mr. David Smarelli and one is selected by the group.
Concert band members have joined the orchestra in rehearsal for the past few weeks. They perform for the Popper and Dvorak and "Catskill Legend," pieces composed for a symphony.
"[Orchestra music] is not like what we play in band. It's not hard, but it's not just pop music. It's known. It's a great way to express musicality and it's important to play stuff like that," freshman Adrian Oliver said.
The concert will start at 7:00 p.m. in the little theater and will be followed by a small reception.
"I'm very excited for the audience to listen to our amazing solos this year," violinist Orchid Wang said.
Visit sbob.org for more information on orchestra and orchestra performances.