Malala wins Nobel Prize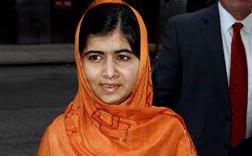 Nobel Prize winners are often associated with scholarly men in lab coats from far off countries, wrinkled from decades of researching a complicated advancement in physics or medicine that has nothing to do with high school students in Cincinnati, Ohio.
However, Malala Yousafzai, a 17-year-old Pakistani women's education activist, shatters those expectations as the latest Nobel Laureate* of the Nobel Peace Prize.
"It's really empowering that a woman so young won the Nobel Prize. I'm really blessed to live in a place where I don't have to worry about fighting for my education," freshman Julia Kolnicki said.
This year's co-winner is Kailash Satyarthi, an Indian anti-child labor activist.
"The decision to split the award with a Pakistani Muslim and an Indian Hindu signifies the unification of religions and nations in the fight for every woman and child," the Nobel Prize website said.
Notable previous Laureates include Barack Obama (2009), Nelson Mandela (1993), and Martin Luther King Jr. (1964).
Much like her predecessors, Yousafzai went through incredible hardships to change the world. When the Taliban began attacking girls' schools in 2009, she began blogging for the BBC about the Taliban trying to take her education away under a pseudonym.
Her identity was soon revealed and she won the International Children's Peace Prize in 2011 for her influential work at only 14 years of age.
However, this made the Taliban threaten Yousafzai's life. In 2012 she was shot in the head on her way home. She was flown to Birmingham, England and now attends school there after nearly half a year of surgery and recovery.
The tragedy brought an enormous amount of attention to her cause. She gave speeches and published an autobiography, "I Am Malala: The Girl Who Stood Up for Education and Was Shot by the Taliban" in 2013.
According to CNN World, "I think this is really the beginning. Children around the world should stand up for their rights and not wait for someone else," Yousafzai said.
Yousafzai is the youngest Nobel Laureate as well as the first Pakistani Nobel Peace Prize winner. She will receive her award on December 10, the anniversary of Nobel's death.
*Nobel Prize winners are referred to as Laureates