Tomorrow's leaders solving today's issues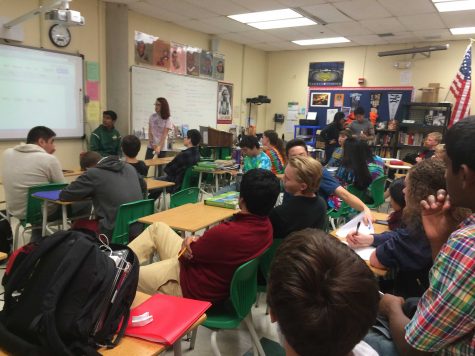 Imagine walking up to a podium, facing what feels like thousands (but more likely is only hundreds) of students, and delivering a speech you have just made up about a topic you know little about.
This situation may sound more like a nightmare than a club, but it is a reality for the students who participate in Model United Nations, aka MUN.
"I'm definitely not the strongest public speaker but I definitely feel that MUN has and will help me with public speaking," junior Haley Kennedy said.
MUN involves a three stage process, centering around one issue. The process starts out with general conversation, where delegates from certain countries gain favor for their ideas and create groups of like-minded delegations.
This first stage takes the form of unmoderated conferences, which are free for all conversations where all delegates interact and try to persuade others to join their cause, and a speakers list, where delegations are given 1 minute to speak  to the rest of the delegates about whatever they see fit.
"I like to take a leadership role during unmoderated caucuses because it allows me to talk to many more people and implement my own research into the working paper," senior Grace Hertlein said.
The second stage involves the groups beginning to write working papers, a paper with a given format that outlines that group's solution to the issue at hand. Although delegations can still change groups, they are, for the most part, locked in.
Working papers gain credibility through sponsors, delegations that had a key role in writing and creating ideas for the paper, and signatories, delegations that sign their approval on the paper. The goal of most delegations is to be a sponsor, because it shows the leadership of the delegation.
During the third stage all working papers are voted on, and those that pass by a majority margin are then edited and enacted by the council.
"I decided to switch groups toward the end of my first conference. Although our working paper didn't pass, I enjoyed having a voice and an active role in the new group," Kennedy said.
MUN involves social skills, the ability to create speeches and deliver them on the spot, and intelligence. But perhaps the most valuable skill a MUN delegate could possess is confidence.
"My advice for anyone looking to join MUN is to come to the meetings and not to be afraid of public speaking," freshman Lily Steward said.
However, many MUN participants join the club without any of these skills. The beauty of MUN is that it works to develop this important, lifelong attributes.
"I always take more of a leadership role during unmoderated caucuses, but when I first joined I was a follower. MUN has really helped me come out of my shell," junior Bryn Kelley said.