Decoding the art of handwriting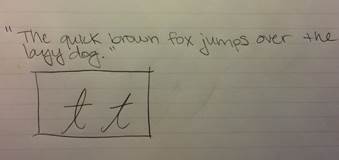 Graphology is, by definition, "the study of handwriting especially for the purpose of character analysis." The way someone writes can show more than 5,000 traits.
Though it does not necessarily apply each time, the size, shape, and slant can give insight on someone's personality.
Handwriting slanted left: keeps to themselves, does not show emotion, works alone, reserved.
Handwriting slanted right: friendly, outgoing, enjoys new experiences.
Handwriting with no slant: logical, keeps emotions inside.
Dotting your i's and crossing your t's shows a lot about a person. These are the two main letters analysts pay attention to.
T
Crosses on top of the "t": High self-esteem, ambitious goals.
Crosses in the middle of the "t": confident.
I
Dot on the left: procrastinator
Dot in the middle: focused on details, impulsive.
Dot is a circle: artistic, child-like.
Dot is a slash: worried, self-critical.
Handwriting is also analyzed with how the letter "o" is formed, the spacing between words and letters, the margins, and how connected the words are.
However, the handwriting test is not always completely accurate. Some factors may include the person in question being ambidextrous, which could change things up.
To learn more, visit this site.