Giving thanks in Palm Springs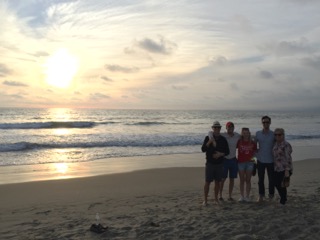 Thanksgiving is a time when families and friends come together to give thanks. This could mean that families travel in order to be with one another on this special day.
"Over Thanksgiving break, my parents and I went to Palm Springs, California and saw my two brothers, sister-in-law, brother's boyfriend, and my aunt," sophomore Alexandra Fanning said.
Due to her brothers having to work on Christmas, Fanning's family choose to make this Thanksgiving special and go to Palm Springs to see her brothers and their families, who live in Los Angeles.
"It was so much fun seeing my whole family because I only see one of my brothers about seven times a year and the other twice a year, since they are 30 and 28 years old and do not live in town anymore," Fanning said.
They stayed in Palm Springs for five days over Thanksgiving break and then traveled to Los Angeles for a few days, where Fanning got to meet up with her cousins.
"We drove to Los Angeles one day and met my cousin and my brother's boyfriend for lunch. It was really special to get to see everyone together," Fanning said.
To learn more about traveling students click here.