Early dismissal has been dismissed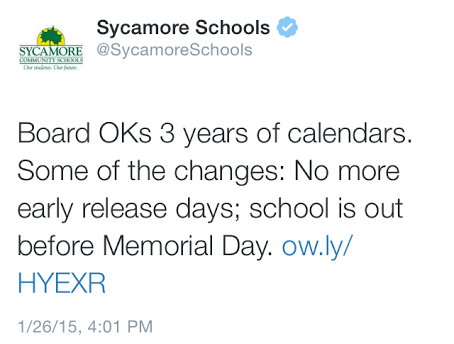 On Wednesday, January 21, the Sycamore Schools Board of Education has came together to approve new academic calendars. On the 26th, sycamore students were notified via twitter about the changes in the academic calendar for the 15-16 school year.
"I'm not sure how I feel about early release days being taken away. That was always something I could look forward to," sophomore Gracie Pel said.
These new changes include having high school exams before break, and also removing early dismissal days. These early dismissal days will be traded in for two full days of professional-development in which students will be off once in April and once in September.
"Having a whole day off will be nice, and definitely beneficial for teachers, but I'm not so happy about early release," sophomore Evan Wiesser said.
Although there are mixed feelings about these changes, there is one thing that is a definite improvement, moving the last day of school to before Memorial Day in May.
"There's so much more school spirit. The staff is doing a great job this year," sophomore Hannah Loftspring said.
These changes are definitely new for Sycamore, but they have been done to improve the school year. These changes although strange are convenient.