Burning excitement for class read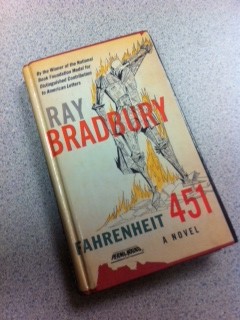 This week, freshmen are buying, reading, and discussing books, not burning them. The accelerated English 9 classes are reading "Fahrenheit 451" by Ray Bradbury for third quarter, and beginning the dystopian adventure of censorship, truth, and rebellion.
"I read the first few pages of the book and I'm hooked already. The way [Bradbury] writes is so fascinating that it makes the reader need to read each and every sentence completely. It's really unique and not like young adult fiction," freshman Stephanie Hong said.
During the first semester the freshmen read "Lord of the Flies" by William Golding and parts of "The Odyssey" by Homer. While reading, they have discussed and wrote about the theme of leadership. This semester, the theme is knowledge and relaying information.
"It pairs really nicely with the research we've been doing and our projects on opinions and how to influence others positively. Bradbury's book talks about that; making positive changes, taking knowledge away from others, or the real truth and about how partial truth isn't good enough," English teacher Mrs. Emily Sweeney said.
The classes are currently working on PSAs and op-eds, working on informative writing and presenting. Those are quickly coming to an end and throughout the block scheduling of March they will be spending time reading and discussing "Fahrenheit 451" together.
Bradbury himself greatly valued reading, books, and libraries.
"You don't have to burn books to destroy a culture. Just get people to stop reading them," author Ray Bradbury said.