Too much stuff, not enough space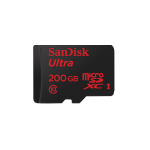 Deleting downloaded material from your phone is a very annoying thing to have to do. Why is it not possible for you just to have everything that you want on your phone? SanDisk has the answer to this question.
SanDisk has created a 200 gigabyte SD memory card for a smartphone. The largest option memory wise on the market right now is at 128 gigabytes, 72 below the new SanDisk invention.
"I have a ton of music on my iPod and I'm constantly deleting apps to free up space for more music.  This would be great for me," sophomore Anthony Lombardi said.
Do not get too riled up just yet. New technology like this is expensive. SanDisk said that it would go on sale sometime during the spring for around $400! A bit pricy for most people.
Odds are that you will not even be able to use this memory card. Apple has never allowed customers to insert SD cards into their iPhones for new storage and Samsung just eliminated the option on their brand new Galaxy S6.
"I have a 32 gigabyte phone and it's plenty of storage for me. I never find myself deleting one thing to free up space for another. This is just pointless," sophomore Dani Lefton said.
A smartphone that can store up to 200 gigabytes would almost eliminate the need for erasing other material from your phone and if companies can make money off of this, they will definitely take advantage of it.
"This is more of a luxury than a necessity. Sure it would be nice to have 200 gigabytes of storage but nobody really needs that," junior Ray Berling said.