Moot Court not moot point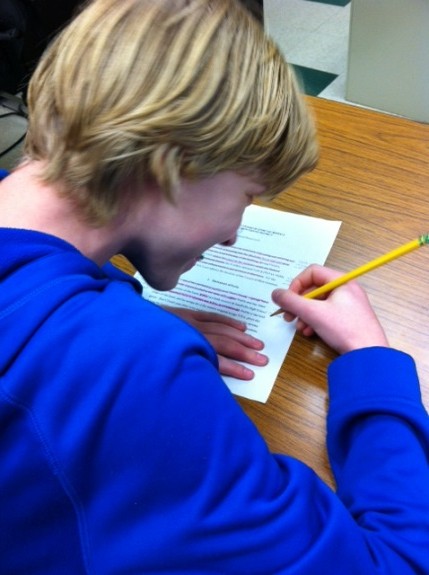 Good news for social studies and academic competition lovers: Monday March 23 marked the first official meeting of SHS's latest club.
Moot Court is similar to another club, Mock Trial. In fact, it was advertised as being Mock Trial, but not. However it focuses on the appellate court process, what happens after a case is tried the first time.
"Moot Court is kind of related to Mock Trial, but in Moot Court you have to do a lot more written work, as opposed to spoken. Plus, I was witness in Mock Trial but there are no witnesses here, only lawyers," freshman Adam Meller said.
Students are tasked with arguing either for or against the ruling at the state competition with a written portion and oral argument.
"By focusing on the applicability of Constitutional law to current legal issues, Moot Court provides students with an opportunity to strengthen critical thinking skills and increase their understanding of the Constitution and judicial system," the Ohio Center for Law-Related Education (OCLRE) said.
Moot Court is the OCLRE's newest program, beginning just last year. The club is run by Mr. Andrew Ostendorf, who is also in charge of the Mock Trial program and consists primarily of Mock Trial members returning for another legal experience.
"I feel that this club will be very successful, not only because we have very good lawyers as our coaches, but we have some very intelligent students from Mock Trial and new students who are eager to put in the work and win. I expect for this to be difficult, but very fun and a great experience for everyone," junior Teahna Reese said.