Anne Sullivan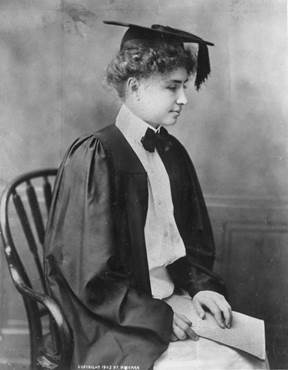 Anne Sullivan was born on April 14, 1866 in Massachusetts. Sullivan and her siblings grew up in very harsh and unhygienic conditions, and at the age of five, she contracted trachoma, an eye disease. Her sight was severely impaired, but she never became fully blind.
After her mother's death early on, Anne and her younger brother Jimmy were left with an abusive father. Their father abandoned the siblings, and they were sent to a state poor house in Tewksbury.
Where, according to graceproducts.com, "[they] roomed and boarded with the mentally ill, with prostitutes, and with people who could not maintain functioning lives in the society of that day."
Jimmy died soon after.
At the age of 14, Sullivan started school at Perkins School for the Blind. By the time she was 20, Sullivan graduated as the class valedictorian. In 1887, Sullivan accepted a position as a teacher to Helen Keller, who was 17 at the time. Keller was deaf, blind, and mute.
Sullivan developed a creative, brilliant method of teaching during her time with Keller. According to perkins.org, "No other individuals have had a greater influence on the education of children who are deaf blind than Anne Sullivan and Helen Keller. No school in the United States has educated more children who are deaf blind than Perkins. Sullivan's child-centered methods are the centerpiece of the educational philosophy of the Perkins Deaf.