How MSJU basketball star impacted our lives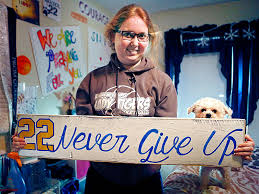 Lauren Hill is gone, but her legacy lives on.
The famous sports player Lauren Hill was pronounced dead April 10, after a long battle with a terminal brain cancer known as Diffuse Intrinsic Pontine Glioma, or DIPG.
However, by spreading awareness of her condition, fighting her illness, and fulfilling her dreams no matter what, Hill will be remembered as a hero and will live on in our hearts and minds.
"She made me feel like I could do anything. She was strong even though she knew she was going to die and pushed through and did not give up. She was selfless and helped so many other people in the process," said freshman Kate Dunn.
She has already left an enormous impression on a myriad of people, with and without cancer, in Cincinnati and throughout the country.
"She (Lauren Hill) showed me how unselfish she was and that everybody in a bad situation can help others," said PE teacher and coach Eddie Clark.
By continuing to be heard despite her tragic fate, Hill has given a voice to children everywhere who are struggling with DIPG. Her campaign for a cure for the rare but fatal cancer has raised 1.4 million dollars and the number keeps growing.
Hill's school, Mount St. Joseph University, has retired her jersey in her honor.
However, Hill has also affected us on a personal level. By being brave, speaking out, and continuing to have hope and be courageous until the end, Hill has given us inspiration, taught us the real meaning of courage, and shown us what a real life superhero looks like.
"I want everybody to know I never give up," said Lauren Hill to Cincinnati.com, the website for the Enquirer.