Paris reels from terror attacks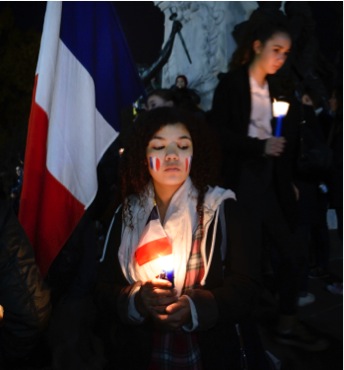 At least 129 were found dead and 352 seriously injured in the aftermath of the Nov. 13 terror attacks in Paris.
  Three shooters arrive at the Bataclan and start opening fire into the crowd. About 89 people were killed in the attack. The shooters then started to round up hostages. Two hours later police raid the theater. One shooter died from police gunfire, two activated their suicide belts.  
  France was playing Germany in a soccer match when a total of three suicide bombers detonated, killing four people. French President François Hollande, in the crowd at the time of the attacks, was evacuated safely.
Le Carillon and Le Petit Cambodge
  Gunmen arrived at the restaurants minutes after the first explosions at Stade de France. According to The New York Times, "Gunmen in a black vehicle started shooting at people sitting at Le Carillon and Le Petit Cambodge with Kalashnikov-type assault rifles, killing 15 people and leaving 10 others seriously wounded."
  Hollande announced on Sat. "What happened yesterday in Paris and St. Denis near the Stade de France was an act of war. Faced with war, the country has to take appropriate steps."
  ISIS currently claims responsibility for horrific attacks.
  According to CNN, "at least one of the terrorists who attacked civilians in Paris on Friday entered the European Union hidden among the wave of refugees arriving on European shores."
    Countries across the world expressed solidarity with France after the Paris attacks.