Come Rain or Come Shine
New Mitford novel for the fall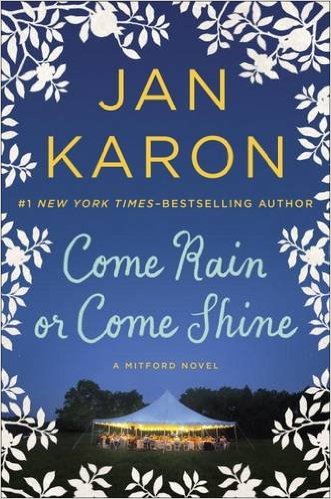 "Come Rain or Come Shine" author Jan Karon is publishing a new Mitford novel. Mitford has enjoyed steady popularity since its first novel, At Home in Mitford. Father Tim is now retired Episcopal priest living in the smalltown hills of Mitford, North Carolina.
In the new Mitford novel Father Tim's adopted son Dooley Kavanaugh has graduated from vet school and has now opened his own animal clinic. Since money is tight, he and his fiance Lace Harper plan on a small wedding.
Of course the whole town takes part in the wedding preparations for the young couple. At first it seems the simple wedding should be quite simple. The execution never is though and that is what makes the plot in this simple cozy read.
Mitford fans can expect a return to the Mitford mountains Sept. 22. This cozy read comes out just in time for the cool weather and warm blankets. Whether looking for a new read that is light and sweet or a beloved Mitford fan, New York Times bestselling author Karon keeps the Mitford series coming, as the last novel "Somewhere Safe" with "Somebody Good" was published last fall.
Karon said in a statement to USA Today, "My legions of readers wanted more, much more, from Mitford. Agatha Christie tried desperately to stop writing about Poirot, but her fans would not permit such heresy.
She was doomed to write 60 novels and stories with this character about whom she later said 'I never cared for that little man.' Well, I do care quite a lot for Tim Kavanaugh, and that is why I have written twelve novels with his character."
To learn more about Karon and the Mitford novels, click here. To purchase a copy of the new novel, click here.