Drawing class prepare portfolios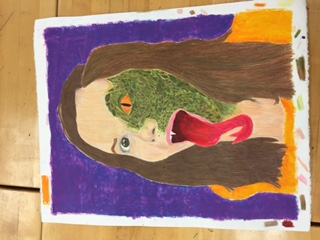 After a semester of working with pastels, pencil, paper and everything in between Mrs. Kat Ferguson's drawing class is gathering their work in order to assemble a portfolio to showcase their work for the semester.
In order to achieve this, the young artists are adding finishing touches to their work as well as matting them by using a thick paper to frame their pieces.
Sophomore, Madison Ringer, said "It takes a while to mat all of our work considering there is so many pieces we have done [this semester] but it makes our art look finished,"
In total, each student is required to have 10 or more art works included in their portfolio. Of those 10 works at least three must be of the four projects completed in second quarter.
Over the course of the semester long class, students have completed projects ranging from self portraits and landscapes to skeletons and motion capturing drawings. Along with in class assignments a homework piece is assigned every week.
Sophomore, Christina Hanisch said "It is hard to meet deadlines sometimes. We have a lot projects all happening at once but I do really enjoy the class,"
After portfolios are assembled, each person's art will be presented and critiqued by the class. Rather than an exam, every student's portfolio of collective works from this semester will be their exam grade.
Hanisch said,"I'm interested to see what everyone has to say about my work. I've worked hard,"
Until then, artists work hard to meet deadlines while still impressing their classmates and teacher with their art.