Choirs walk on to state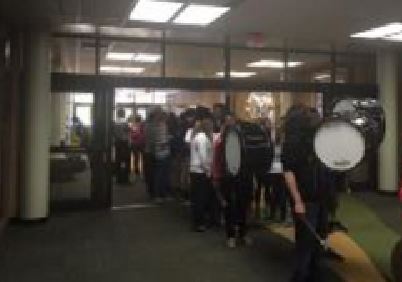 The Walk of Champions is a new event that Mr. Doug Mader started. It is used to honor and appreciate any team, club, or activity that has achieved at a state level competition.
Although normally it is assumed that this event honors solely sports teams, it also includes academic clubs, marketing teams, and now choir.
Sophomore Leslie Brown said, "I like how we recognize the achievement of all activities at SHS because each club is just as dedicated as the next and deserves recognition."
This year the choirs have dedicated themselves to the mastery of their music in challenging pieces. The all girls choir and Bella Voce will be singing songs in Serbian, Latin, and German. Many of the pieces include accompaniment by piano or other instruments.
Sophomore Emma Smith said, "Attention to detail is critical in an event as competitive as this. Sometimes we spend a whole class bell on a couple pages of music."
This achievement has marked a high point in the history of Aves Choir. The state level Ohio Music Education Awards competition will be one of last performances of the year.
The choir performs at multiple concerts a year with a different repetoir with each. So far the choir has performed at the Variety Show, District level OMEA, as well as fall and winter concerts
Choir director Ken Holdt said, "I am so proud of everyone in the choir program, this is the first time in a decade that all the choirs have advanced to state level, and I couldn't be more proud."