All Rise, Mock Trial begins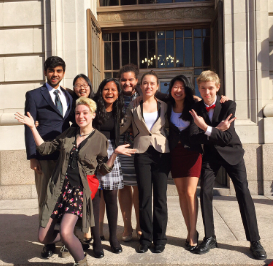 Sarah Horne, Creative Projects Director
September 13, 2016
Annually, SHS members of the Mock Trial Club are presented with a new trial case. They compete with different schools across Ohio in order to learn about the American judicial system.
"Mock Trial is fun, mentally engaging and stimulating. We have competitions and get to hang out with people with similar interests" said, Emma Traylor 12.
The club has tryouts in October where members will choose to audition for a part as an attorney or witness for the case. Tryouts consist of students reading over a couple cases and then presenting the two sides of one of the cases.
" People should join Mock Trial because it's a very versatile extra curricular. If you love acting, debating, or competing, then mock trial has something for you. It's not just for people who want to be lawyers" said Traylor.
Mock Trial does not cut anyone from its program, and had three competitive teams last year: Aves Team, Green Team, and Gold Team.
"I feel like this season is going be great. We have a lot of talented members who are returning, and I'm excited to see new people join. Everybody works really hard, and I'm positive that we will see those results when we go to competition" said Traylor.
Mr. Andy Oakes will be taking over the program for Mr. Drew Ostendorf. He is going to be having an introductory meeting on September 7th.
"There is a time commitment involved, and there is work to do, but there is flexibility within the program. Mock trial is something fun you can do in high school, that will help you further on in life. Whether it is critical thinking, analyzing and constructing arguments, or public speaking, some of the tools it gives you are invaluable" said Traylor.