French society debates burkinis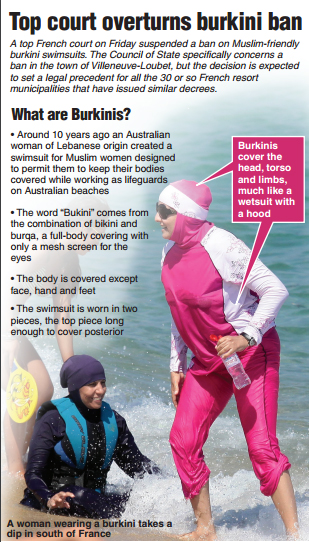 The burkini crisis that has swept through France has found it way to SHS in its own unique way. On September 6 and 7, Mrs. Lesley Chapman's French V class participated in their own form of debates.
Junior Emilie King said, "I think it's just a big scandal to cover up the Islamophobia in France right now. They're blowing the controversy way out of proportion to cover up the fact that they're scared of more terrorist attacks."
The class watched videos and read French articles as they prepared for their debates. Unlike SHS's famous sophomore debates, students were given which side of the argument they were defending ahead of time.
In researching the best path for France to take regarding the burkini, students delved into rulings by the Estates General, the reason for the burkini creation, and even the French Constitution.
Junior Emily Reddy said, "I think the Estates General is doing what can be done because there is support on both sides, and France is divided on the issue. It's hard for the Estates General to make everyone happy."
As the debates came to a close, Chapman ended the day by having a class discussion regarding French culture. The class will also be looking into the culture of other francophone countries as the year progresses in the hope to better understand the French-speaking world.
King said, "French isn't just a language. There's a country and a culture that goes along with it that can help you understand the language better."