Concert uncovers senior competence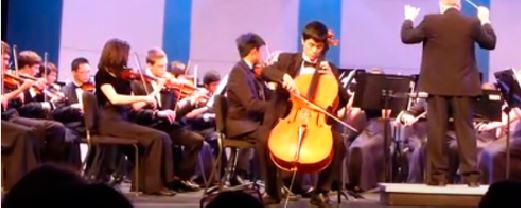 To show off the hard work the seniors have put into playing string instruments, the orchestra will have their Senior Spotlight Concert Thurs Oct. 13, at 7:00 p.m.
"I think it is really cool that we are performing a concert showcasing how hard the seniors have worked throughout middle and high school," said Abbigail Motley, 9.
At the concert, the ensemble will play seven pieces including, soloist senior Orchid Wang in Meditation from Thais , and senior soloist Yuto Nakahata in Concerto in C major for cello and orchestra.
"I think we have worked extremely hard to get ready for this concert, Mr. David Smarelli has helped us to learn the pieces and make them the best we can," said Alice Lundegren, 9.
Also, for the piece Allegro from Concerto in D Major, senior Jun Nishikawa will be student-conducting the ensemble.
Along with the orchestra the wind symphony will be playing. The wind instruments do not play all of the pieces with the orchestra but they will accompany them in some, such as Pops Hoe Down, by Richard Hayman.
"I'm pretty excited for the senior spotlight. I absolutely love playing some of these songs and it's a different environment than the band," said Julia You, 12.
All in all , this concert will let the seniors shine in the spotlight and display all of the time they have put into becoming better musicians.
To find out more information on the orchestra visit here.