Single stroke opens imagination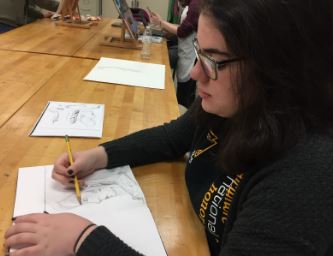 Sarah Horne, Creative Projects Director
December 20, 2016
During Senior year, many students have to make life decisions and decide what major they wish to pursue in college. This decision begins to shape the person the senior wants to become and the life they want to fulfill. For Senior Emily Hartwig, art is an aspect of her life that she wishes to carry out after high school.
"Art is important to me because it helps me cope and realize my imagination. Also it is really fulfilling to see people's reactions when I make something for them. I'm planning to get bachelors of fine arts in graphic design with minors in fine art and business in college. I hope to work as a graphic designer in the future but I want to keep fine art, such as traditional drawing and painting, in my life as well," Hartwig said.
Art has been a part of Hartwig's life prior to and during high school. She is a member of the Windows of Hope and the Memory Project, which are two service learning projects offered at SHS.
"Taking art classes has taught me to see the world in a different way and helped me to stretch my limits. Service learning has allowed me to see the real impact of art beyond the immediate group of people I see everyday. Also just being around other art oriented people has been a huge step up for me," Hartwig said.
Unlike most kids, Hartwig began using charcoal for her art at a young age. From there she has gone on to create works using all different kinds of media, from traditional, to digital.
"When I was younger, I really loved to draw animals and that's what got me into drawing in the first place. I remember my mom teaching me to draw and introducing me to charcoal. Besides that, my elementary school art teacher Mrs. Sauer really encouraged me to learn all that I could. I strayed out of art during middle school but I came back in high school. The art teachers at the high school have been really supportive of me and always help me to push myself," Hartwig said.
Hartwig was nominated for the Overture award, along with senior Brooke Baker for AP studio art. They will be submitting a portfolio in January to be judged in this elite contest.
"My portfolio consists of eight pieces that have a similar theme. Currently, I have six landscape pieces completed and I'm working on the seventh in AP Studio. In addition to that piece, I am working on another between now and the second week of January" Hartwig said.