Teamwork makes dream work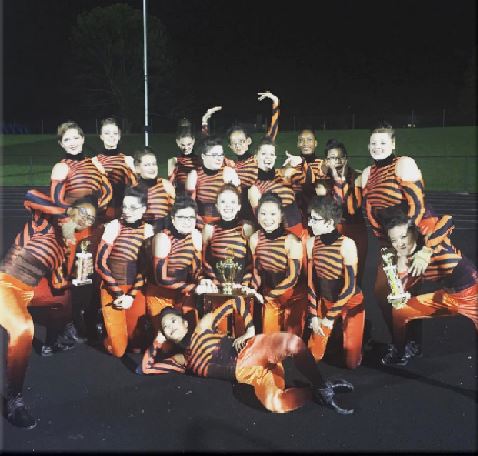 For their competition Sat. Oct 1, the color guard added choreography and drill for movement three for the first time.
" I felt like I did a lot better than our previous competitions. Although it was more difficult with the new choreography and drill,it was a great experience!" said Sophia Taylor, 9
At the end of the day the marching band took home first place, and fan favorite. Also the color guard was just one point off from receiving best color guard.
Compared to their competition at Hamilton High School,where they received third place,overall the ensemble has made many improvements.
"I think we preformed really well as a team. There might have been some mistakes made but,we tried our best, and I feel happy about it" said Kathleen Leonard, 10.
The ensemble performed movement three for the first time in front of a crowd, and performed "on the move" for the second time, even though it is already their fifth competition.In movement three, the color guard finishes the show using green flags that match the flags they use in movement one.
"This performance was a drastic improvement from the competition before, and I'm really proud of everyone" said Sara Cohen ,11
Even though they just added more to their show, Vortex, the group is already continuing to learn more drill and choreography. The band and color guard are also practicing making movements one and two better.
To sum it all up, the marching band did a fantastic job at their previous competition, and they are still working to improve their show for the next one.
To find more information on the color guard, and when their next competition will occur go to here.