Keeping healthy and warm in winter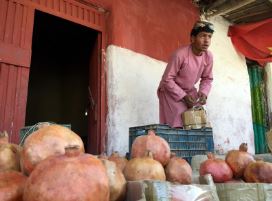 Sarah Horne, Creative Projects Director
December 20, 2016
Winter time is filled with snow over fields and a decrease in many popular fruits and vegetables enjoyed in the other three seasons. However, there are many different ones that are rip during the winter months.
These consist of any kind of citrus fruit like lemons and oranges, pomegranates, carrots, potatoes, squash, and kale. For more options of fruits and vegetables that are rip in the winter click here.
Also if you are looking to keep warm this winter, there are a couple different drinks that hit their prime in the cold months. These would include Chai Tea, cider ,mint hot chocolate. For recipes on these three drinks and more variations of these drinks click here.
With less Vitamin C available in the winter -due to less sunlight being visible- it is even more important to eat healthy in order to avoid illness. Making sure to eat three meals a day and have nutritious elements in each meal can help improve both health and happiness.
Also being sure to keep warm is important in order to battle any diseases that could be circling. In addition to drinking warm drinks, make sure to have a coat with you at all times when the temperature dips down.