U 'see' progress for mock trial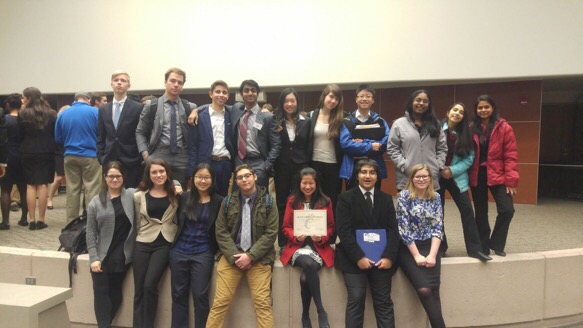 Mock trial tackled its second tournament of the year at the University of Cincinnati on Sun. Dec. 8.
Each team competed in two rounds. In the varsity team, the plaintiff side with attorneys junior Jenna Bao and senior Sarah Horne and witnesses senior Cali Colliver and junior Adam Meller was chosen first and went against Oak Hills High School.
"We… held our own against Oak Hills, which is widely regarded as one of the best teams. Personally, I felt as if I was no longer memorizing… but was instead starting to [respond] in a more natural and convincing manner. Overall, I was happy with my own performance and proud of my teammates," Colliver said.
Rounds were judged by mock trial members and coaches at UC, giving a variety of perspectives from experienced mock litigators.
In the second round, the varsity defense side went against Moeller High School. The defense attorneys were seniors Joshua Patterson and Emma Traylor and witnesses were played by junior Dylan Sleyo and senior Umang Joshi.
"We still have to work on memorization and fluidity, but it was a learning experience that I know will help us improve for districts," Traylor said.
The JV team was paired with Mason and Walnut Hills. For most of the team members, it was their first time at the tournament since SHS was not able to participate in the tournament last year due to inclement weather. Earlier in the year the team went to the Mockhawk Tournament hosted by Miami University.
"I think that we definitely improved since our Miami competition. Both of our teams went against strong opponents, and we did well and held our own," Traylor said.
The students were accompanied by coaches Mr. Andrew Oakes and Mr. Darius Powell, as we all as the attorney advisor for the JV team, Bernard Wong.
Traylor, Bao, and sophomore Carolyn Zhang on the JV team were all awarded best attorney awards in the tournament.
In the next week, the teams will practice as much as possible for the district competition which will take place at the Hamilton County Courthouse on Thurs. Jan. 19. Districts typically take place on a Friday, however organizers moved the event to Thursday evening over concern that the inauguration of Jan. 20 may present a dangerous situation for students.
Due to the schedule change, the team will not be able to attend the annual pre-districts scrimmage arranged by the Ohio Council for Law Related Education (OCLRE), as it was rescheduled at the last minute and posed scheduling conflicts.
SHS mock trial has sent at least one team to regionals in the past few years, and team members are currently at work in the hopes of keeping up the trend.