Cookies serve as memento for celebration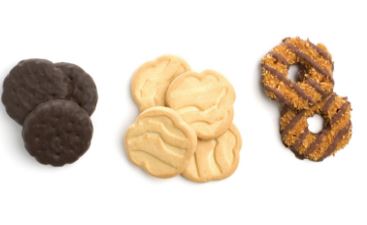 As the predictions for snowy weather and frigid air surround the new year, there is still something that might make this season a little bit warmer and more pleasant: the sale of Girl Scout cookies.
"Every box you buy helps power unique and amazing experiences for the awesome girls who sell them; it also gives her the opportunity to learn essential life skills, soar in confidence, and quickly discover the leader within," according to the Girl Scout website.
Girls from around the nation are putting their hard earned skills to use by going around to friends and family and selling cookies.
The organization wants to spread the empowerment of girls by teaching real life skills. Cookie-selling is a method for letting the scouts see their abilities come to life.
"While some people still think of us as just cookies, campfires, and friendship bracelets, Girl Scouts are so much more. Girl Scouts are big thinkers, groundbreakers, and role models."
"Girl Scouts design robots, start garage bands, and improve their communities, and yes, they sell the best cookies on the planet," according to the Girl Scout website.
This year, there is a new cookie to try, the Girl Scout S'mores, which contains crispy graham cracker cookies and a chocolate and creme filling.
The chocolate can either be on the outside covering all the ingredients, or two graham cookies can be on the outside, sandwiching the fillings.
The cookies look different depending on which of the two regional bakers supply to the area, ABC Bakers or Little Brownie Bakers. Ohio's cookies are made by the Little Brownie Bakers company.
As exciting as a new cookie can be, the Girl Scout organization is also celebrating 100 years of cookie sales, which paves its way into the very core of the program.
"For 100 years, Girl Scouts has used cookie earnings to build everyday leaders who make a positive impact on our world. And there's no doubt: American society today is better because of the girls who have taken part in the Girl Scout Cookie Program," according to the Girl Scout website.