Environmental Club awareness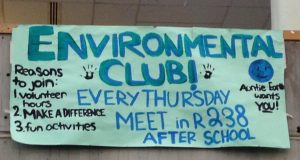 The Environmental Club is one of most underrated clubs. The club's goal is to spread awareness about conservation and aid in the preservation of the natural world.
"We hold meetings weekly and we will often go on trips to places all over the city to do acts of preservation," said Mr. Ronald Hochstrasser, club advisor.
The club is run by Hochstrasser, the AP Environmental Studies and Field Biology teacher. In addition to promoting environmental protection in his club, he also educates students on what is happening around them and what they can do to help.
"I feel like almost every day before we start the lesson he tells us about some sort of world news or volunteer opportunity that's coming up," said junior Brielle Robbins.
Hochstrasser promotes to his classes every opportunity he can find for education about our city, our environment and what students can do to help. The classes, activities, and seminars he finds are typically catered to the high school age.
Besides strictly learning based seminars and opportunities, he also provides his students with activities where they can physically interact with the world around them and personally aid in its preservation.
"Already we have been out as a class looking around the school at the types of plants and trees we have on campus and he has told us all about the rain garden that the club put together," said Robbins.
For more information about the Environmental Club or any of the activities that Hochstrasser has come across, visit him in Room 238 during and after school on Thursdays at 2:30 p.m.