Sycamore charges up recycling program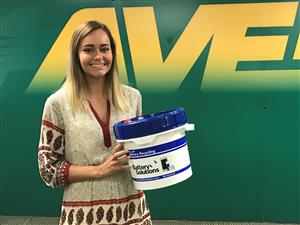 A Sycamore senior has taken the initiative to influence the amount of toxins released by batteries when thrown away. Alexandra Meckes has set up a program for recycling batteries in the district of Sycamore.
"Battery recycling goes unnoticed because people don't realize they can be recycled, and most people aren't aware of places that recycle batteries," Meckes said.
Her inspiration is derived from the holidays when batteries are being used and thrown away excessively.
"When I looked into it, I saw the harmful effects it has on the environment, watersheds, and even people's health," Meckes said.
Using this program, Meckes joined the contest, Caring For Our Watersheds. This is a contest that encourages students to protect our environment and preserve local watersheds. Meckes placed third in this contest in the city of Cincinnati.
Each container for used batteries is located in the office of each school in our district. Each can hold up to 50 pounds of batteries, and within two weeks, Meckes gathered up over 70 pounds to be transported to Michigan, where the recycling program's main location is.
"I have gotten an overwhelming amount of support and involvement," Meckes said.
For more information on the program, click here.