One student embodies versatility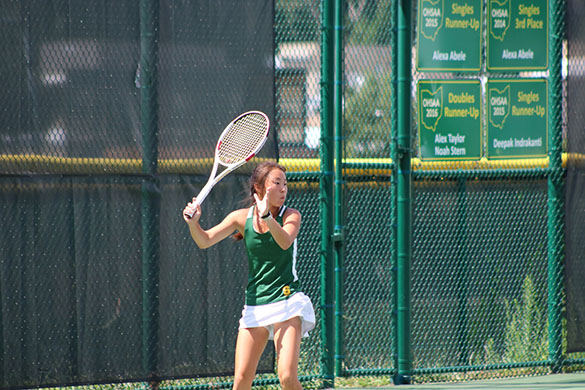 Senior. The word itself is rooted in a rollercoaster of emotions, most good, but some carrying remnants of the revered high school experience.
As the last of a four year journey is being played out for many students, it is worthwhile to admire the talents of the Class of 2018.
Senior Kaitlyn Jiang is one student caught in the whirlwind of twelfth grade and is best described as the modern 'Renaissance woman' when it comes to involvement within SHS. Just one of many accomplishments include being named a National Merit semifinalist.
National Merit semifinalists are students that get a certain, exceptional score on the Preliminary Scholastic Aptitude Test (PSAT). Getting recognized for this achievement and being a part of the elite that achieved this feat is something Jiang did not expect.
"It was not really a thing that a lot of us prepared for. It was not on the top list of priorities among all the other things that juniors have to do," Jiang said regarding the PSAT.
When asked to talk about her extracurriculars, Jiang names a long list containing Varsity tennis, Model UN, a part time job at Dewey's, tutoring at Operation Give Back, and National Honor Society.
"There might be more things but I can't remember," Jiang said after reciting all her activities.
Jiang's distinguishing feature, also found within the Class of 2018 as a whole, is the ability to participate in various activities but to the highest standard. She additionally plays second singles on the Varsity Gold tennis team, a very demanding position.
"In both academics and athletics, the last four years have pushed me past my ostensible limit in terms of work ethic. Learning about the value of hard work and tenacity has shaped who I am," Jiang said.
Although she may have a rigorous after school and academic schedule, Jiang is careful to avoid being misrepresented.
"I want to represent myself as honestly as I can and avoid the cliches of being a completely school-oriented, grade-focused student," Jiang said.
With extraordinary students like Jiang leading the senior class, it is easy to see the multitude of talents this year's graduating class possesses.
See more of Jiang's involvement on the tennis team here.