Four Sycamore seniors score 36 on ACT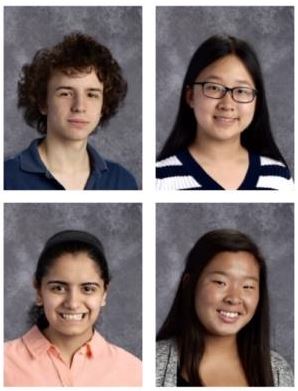 Four seniors achieved something fewer than one percent of those taking the ACT test accomplish.
  Jenna Bao, David Godar, Stephanie Hong, Harsimran Makkad achieved a perfect score of 36 on the college entrance exam.
  Ohio's average ACT score for the Class of 2017 was a 22, with the national average being a point lower. Less than one-tenth of a percent of students taking the ACT earn a perfect score.
  This is the second major honor bestowed on Bao, Godar, Hong, and Makkad in recent months.
  Bao, Godar, and Makkad were named National Merit semifinalists as well. Bao was recognized as a national writing award winner by Scholastic Newspapers Online (SNO); Godar won a piano competition; Hong won the Northeast Rotary Student of the Year; Makkad was the recipient of a Principal's Breakfast Award.
  Following graduation, Bao plans to study international relations in college and then eventually go to law school, and Godar plans to study physics in college, particularly MIT. Meanwhile, Hong plans to explore human relations in college, and Makkad is considering a major in Biomedical Engineering with a possible exploration in medicine for graduate school.