Puerto Rico cries for help
Island goes from waist-deep in water to drowning in humanitarian crisis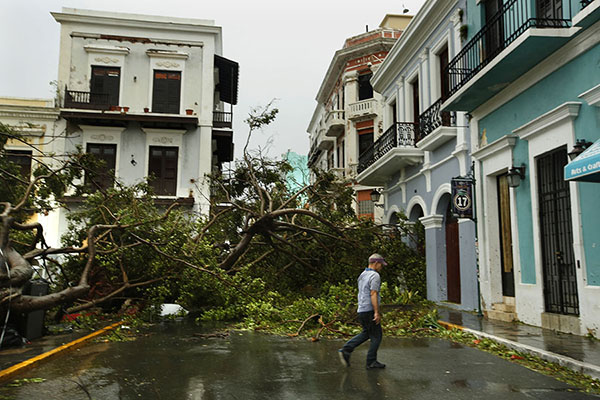 Harvey, Irma, Jose, Katia, Nate, and Maria. These are not names of people, but names of the most destructive hurricanes to impact the United States and Caribbean Islands this year.
Although Texas and Florida were among places heavily damaged by hurricanes Harvey and Irma, help was sent out quickly and national sentiment raised to get them back on their feet. However, Puerto Rico's hurricane experience varies greatly.
Hurricane Maria made landfall in Puerto Rico on Sept. 20 as a Category Four storm, the strongest to hit in 85 years. Puerto Rico's already weak infrastructure proved no match for Maria's debilitating winds which decimated the power grid.
Trying to understand the extent of the hurricane is an overwhelming task. Currently, 83 percent of more than three million residents do not have access to electricity. Drinking water, a basic human necessity, is unavailable to 36 percent of the population.
Statistics are helpful in fathoming the events taking place in Puerto Rico, but junior Karisa Grandison shares her personal connection.
Last spring was Grandison's most recent visit to the island, a trip taken to visit her Papá, her 90-year-old great grandfather, in a small town called Humacao. Grandison speaks of how he was affected by Hurricane Maria's wrath.
Her family did not hear from him for days, each one agonizing. Through social media, her mother was able to contact someone to check on her great grandfather; he was okay. He was one of the many who decided not to evacuate but to wait it out at home.
"He remained in a tiny house with all of about four rooms, where he has lived for as long as I can remember. A house that is undoubtedly damaged, but, miraculously still standing, just like the island itself," Grandison said.
Just when they thought Papá was in the clear, Grandison's family received word that he had run out of food and water. He very well could have died of dehydration.
Grandison's mom used every connection available to her. She called pilots and physicians, and by a miracle, got Papá on an evacuation flight to Florida, where he is now staying with family.
"There really aren't words to describe how grateful I am knowing that he's alright, that he's safe. Yet I can't be grateful for our miracle without acknowledging that there are a lot of families in Puerto Rico who won't get the same miracle we did," Grandison said.
Grandison's story is shared by millions of other Puerto Ricans struggling without basic necessities, and even though the problem seems an ocean away, they are suffering and need immediate help.
President Donald Trump reacted to the crisis by sending relief workers from the Federal Emergency Management Agency (FEMA) as well as money and resources. Even so, the White House administration has been criticized for the slow response and inadequate supplies.
Furthermore, Puerto Ricans themselves contradict news reports and tweets about the major progress made, many citizens claiming to not see much help at all.
With these developments, it is not surprising that the issue has turned political, especially as Trump insinuates plans to remove FEMA and relief workers from the island.
"Electric and all infrastructure was disaster before hurricanes. Congress to decide how much to spend. We cannot keep FEMA, the Military & the First Responders, who have been amazing (under the most difficult circumstances) in P.R. forever!" Trump tweeted.
Grandison believes that government reaction was delayed, not because efforts are not being made, but because there is a lot more work to be accomplished in a faster and more efficient manner.
She emphasizes the fact most people do not understand that Puerto Rico is a U.S. commonwealth, meaning Puerto Ricans are Americans who expect the support of the federal government despite their debt and economic problems.
Without knowing that Puerto Rico is part of America, it becomes very easy for people in the states to remove themselves from the situation.
"When people don't feel a connection with a situation, they're way less likely to care about it," Grandison said.
As controversy consumes the reactions of the U.S. government and Puerto Rico's economic issues, people are dying, and empathy must transcend opinions in order to provide relief.
SHS held a fundraiser on Fri. Oct. 13 in the commons. The effort was overseen by Grandison. Students can also help by buying Lin Manuel Miranda's new song titled " Almost like Praying" featuring famous singers. All profits are directly going to aid Puerto Rico.
Now more than ever, Puerto Ricans must be helped as Americans. Educating oneself about the issue at hand and finding ways to assist is a stepping stone to helping Puerto Rico find normalcy once again.