Club encourages girls coding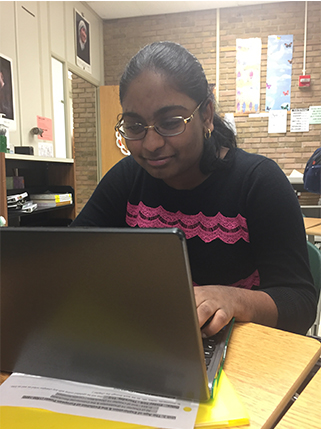 The U.S. Department of Commerce found that women fill 48 percent of jobs in the U.S., yet only 24 percent of science, technology, engineering, and math (STEM) jobs are filled by women. Girls Who Code (GWC), a club new to Sycamore, is trying to combat this inequality.
Its founders, sophomore Anupama Narayana and juniors Nandita Kulkarni and Swati Bhageria, met in computer science class last year.
"We realized that there are not a lot of girls in coding… and there is not an equal representation of girls in STEM fields at all," Narayana said.
They created GWC in an effort to encourage more girls to be involved in coding (and STEM fields in general). The club is a way to show Sycamore girls that coding and STEM are for them as much as they are for males- that these careers are a viable option.
"It is important for girls to be in coding because you want them to have equal representation- of course. The stigma that computer science is only for guys starts at a really young age… so [we want to] teach [boys and girls]in younger grades that everyone can do this," Narayana said.
GWC will teach both girls and boys how to code at SHS as well as other Sycamore schools.
"We will be teaching [younger kids] block coding so that they can make their own fun apps and projects.
"For the highschoolers, we will be teaching text coding, [possibly] building our own app or website, or really anything the club wants to do," Narayana said.
Everyone is welcome to GWC ,and no coding experience is required- you do not even need to know what block and text coding are!
GWC's next meeting is Tues., Oct. 24 in room 212.