Mock trial (U)sees results
While SHS has yet to fully climb out of winter break, the mock trial season is charging full steam ahead. Jan. 7, the last (planned) day of break had 26 local mock trial teams facing off at the University of Cincinnati's high school invitational.
The tournament was the second competition this season for the Varsity and JV teams (Raise the Bar and Winning Appeal, respectively), with the first being Mockhawk at Miami University. For the rookie team, Move to Strike, it was the first time putting their preparation to the test.
"Surprisingly, the first time was a bit different from than I expected. Before competing, you can just feel the nerves, but the minute the trial begins, everyone is in the zone, and it's actually not nerve-wracking but instead super fun," said Grace Zhang, 9.
Despite relative lack of experience, Move to Strike performed well with freshmen Ashna Prakash and Aaditi Lele receiving Outstanding Witness awards and freshman Niyata Kanchan receiving Outstanding Attorney.
Other awards went to juniors Grace Creek and Carolyn Zhang and senior Jenna Bao (Outstanding Attorney) and senior Rishav Dasgupta (Outstanding Witness).
Further, Raise the Bar placed second in the tournament, winning all of their ballots of the day.
"I actually felt more confident going into this competition because I felt much more prepared. My witness and I had been working really hard on our materials, and during competition, it totally paid off…
"There's always room to improve, though. Each judge and each team was a little different, and sometimes during the trial I felt like I was struggling to keep up, but I just took a deep breath and tried my best to stay calm.
  "Plus, having my co-counsel there next to me was very reassuring, even though she was actually stepping in for my actual co-counsel, who was still on vacation. It's so great to work with different people sometimes, and I had a lot of fun working with her," Carolyn said.
The teams prepared all through break by meeting outside of school.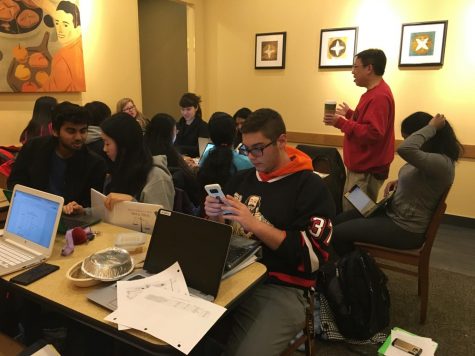 "We got together a couple times over break to practice the delivery aspect and bounce ideas off of each other if we were unclear about something. However, a huge part was making sure each person knew [his/her] part very well," Grace said.
All this preparation led to a complete performance at competition.
"The rush of being on the stand is amazing," said Theodore Weng, 11.
Now, the teams are preparing for scrimmages on Jan. 18 and district competition on Jan. 26, the latter of which will determine whether they advance to the regional level.
"All of our work paid off in the end when several teammates…earned outstanding attorney/witness awards. Even some of the freshmen from the rookie team earned awards, which made me super proud.
"And finally, when they announced that our team went 4 and 0 and won second place out of all the teams that competed today, I was more excited than I had been in a long time.
"Our achievements were proof that hard work and preparation leads to success, and our success has inspired me to continuing working harder so that we can perform even better in the next competition," Carolyn said.