Chinua Achebe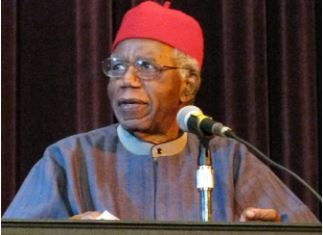 Chinua Achebe, the renowned author, educator, and publisher, was born on Nov. 16, 1930 in the small town of Igbo in eastern Nigeria. After receiving an education in English at the University of Iban, he served as a teacher for a few years.
He the wrote his first novel in 1958, titled "Things Fall apart," which has sold 20 million copies in over 50 different languages. Joining the Nigerian Broadcasting Corporation in 1961, Achebe served as its director from 1961 to 1960.
He then married his wife Christie Chinwe Okoli in 1961 and together they had four children. It was also during this time period that he wrote his next two novels "No Longer at Ease" (1960), "Arrow of God" (1964), and "A Man of the People" (1966).
In 1967 Achebe co founded the Citadel Press with poet Christopher Okigbo, who later died in the Nigerian civil war.
This prompted Achebe to tour the US, speaking at different universities about the current state of Nigeria.
Then, in the 1970s Achebe was a faculty member at the University of Massachusetts, the University of Connecticut and the University of Nigeria, while simultaneously serving as the director of two Nigerian publishing houses: Heinemann Educational Books Ltd. and Nwankwo-Ifejika Ltd.
He also began publishing short stories and poems including a children's book, "How the Leopard Got His Claws" (1972) and a poetry collection "Beware, Soul Brother" (1971). In 1897 after 20 years Achebe published another novel "Anthills of the Savannah" (1987).
Tragedy struck in 1990 when Achebe was paralyzed from the waist down in a car accident in Nigeria. He then moved to New York and began teaching at Bard College, where he stayed for the next 15 years.
Achebe then left Bard to begin working at Brown University in 2009 as the professor of Africana studies.
Finally, at the age of 82, Achebe died on March 21, 2013.