Chinese Club preps for Chinese New Year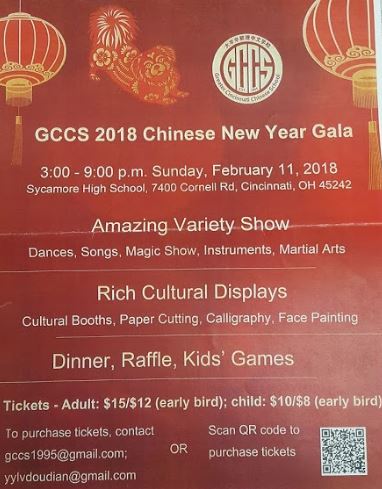 Although the U.S. has already been through the New Year craze, China and many other countries are just warming up. Chinese New Year (CNY) is on a different day every year because it is according to the Lunar calendar. This year is the year of the dog, and New Year will be on Fri., Feb. 16.
"Chinese New Year is cool and fun," said Samuel Miles, 11, AP Chinese student.
The Greater Cincinnati Chinese School (GCCS) is holding a Chinese New Year Gala on Sun., Feb. 11 in the Commons; all are invited. The fee is $15 for adults and $10 for children. Students in Chinese will volunteer there and participating in the entertainment and hosting.
"I believe it is a great opportunity for students interested in Chinese culture and language. By participating in these events, students can learn and experience new things," said Soeun Cho, 11, AP Chinese student.
The Gala will be from 3:00 p.m. to 9:00 p.m. and will include entertainment such as dancing, singing, martial arts, magic shows and more. There will several cultural booths and opportunities to try Chinese arts of paper cutting, calligraphy, and face painting.
A dinner of Chinese food will be provided and a raffle and kids' games will be held as well.
In addition, the Chinese classes and Chinese Club are having a CNY party on Fri., Feb. 16 in the Hub during lunch. The fee is $3 for the lunch ,which will consist of many Chinese New Year dishes such as dumplings, noodles, fish, and more.
Not just for celebrating the New Year, the club is also taking this opportunity to have a fundraiser. Any additional donations are welcome, and all the money collected will go toward the Chinese Club treasury savings.
"Chinese New Year is an awesome celebration," said Michael Wang, 11, AP Chinese student.
There is a Chinese legend that goes with the Chinese zodiacs, such as this year being the year of the dog. The story is about a race among the animals. The zodiacs are in order of the animals that finished the race.
The cunning rat won first place followed by the ox, tiger, rabbit, dragon, snake, horse, goat, monkey, rooster, dog, then pig.
It is believed people born in the year of a certain zodiac have certain characteristics. For example, if born as a dog zodiac, you are honest, friendly, loyal, smart, and straightforward according to "Your Chinese Astrology."