Young Feminists celebrate International Women's Day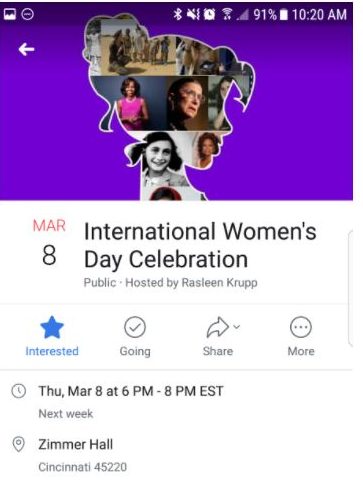 The International Women's Day Celebration will be hosted on Thurs., Mar. 8 at the University of Cincinnati at Zimmer Hall from 6:00 p.m. to 8:00 p.m. There is no registration required; the event is open to the public.
The event is hosted by the Young Feminists Coalition, a group committed to uniting young feminists in the local area. There will be speeches and performances from young feminists and a special guest speaker.
---
Q&A with Billie Mays, Young Feminist Coalition, United We Stand Cincinnati (UWSCIncy)

What will go on during the event?
The event will be held at University of Cincinnati Zimmer Hall on Thurs., Mar. 8 from 6:00 p.m. to 8:00 p.m. It will be an evening of young people from the area performing poems, songs, dance and speeches! A celebration of women around the world! Siri Imani and Aziza Love from the local group TRIIIBE will perform along with a special guest, Aftab Pureval. We will have tables set up with local groups. Also, there will be a focus on voter registration.

What do you hope for people to get out of this event?
We hope this youth-led event will inspire others to get more involved. From the energy of the women's march to the new wave of energy from young people all over the country, we hope to motivate us all to know we are the change we want to see in the world.

How can students get more involved in marches/campaigns in Cincinnati?
Join local grassroots organizations to start getting more involved! The teenagers are leading the way!

To learn more about this specific event, as well as campaigns and marches here in Cincinnati, visit United We Stand's Facebook page.