'Right this Way' Bandstand returns to theaters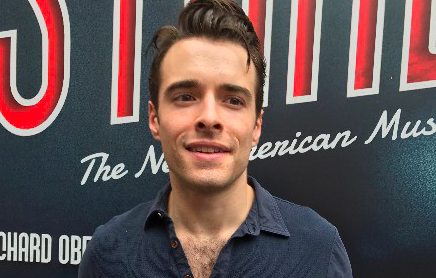 All war veterans know that the battle is never over. They may be home, but nothing is ever the same. The bed is too soft, the streets too quiet, and the day too empty without the constant commotion that comes with wartime.
Every car horn is an alarm. Every dropped item is a grenade. Every face in the supermarket becomes that of a fallen comrade. The experience of battle is often shown, but it is the post-war conflicts that have been left in the dark.
However, that ends now.
In honor of U.S. Veterans across America, the professionally filmed Broadway Musical "Bandstand" will hit theaters again Nov. 15 and 19. Though it made its debut on screen during the summer, the reviews and fan desires brought it back.
This beloved, fan-favorite musical follows World War II veteran Donny Novitski, a natural born musician, attempting to adjust to his post-war lifestyle. In efforts to ignore the ghosts of the past four years overseas, Novitski plays the piano, drowning the horrors with his music.
When a national band contest is announced over the radio, Novitski is determined to win, and assembles a band of former soldiers and a widowed military wife, Julia Trojan, hoping to gain all of the promised fame and glory that comes with first prize.
However, the group struggles to face the long-term effects of the battlefield. The musical tangles with heart-wrenching stories and harsh realities, in addition to amazing music and flawless choreography.
Sophomore Sophie Campbell has been anticipating this encore for a while and will be seeing it tomorrow.
"I'm super excited about seeing 'Bandstand!' I enjoy watching musicals because the music is always entertaining and the dancing is super incredible and impressive," Campbell said.
Broadway star Corey Cott plays Donny Novitski. Cott has been the star of several Broadway productions, including "Gigi" and Disney's "Newsies." Co-starring as Julia, Laura Osnes also has quite the rap sheet, having starred in "Grease," "Anything Goes," "Bonnie and Clyde," and "Roger and Hammerstein's Cinderella" to name a few.
Showing in only three theaters in Cincinnati, demand is high and seats are in short supply. The show will be playing at 7:00 p.m. each day, and will entertain for a little over two hours. Click here to purchase tickets.
Freshman Megan Radakovich was able to experience the musical when it originally came to theaters this summer.
"I loved how 'Bandstand' in the theaters imitated an actual live performance. It gave me a chance to see a show I would not have otherwise seen," Radakovich said.
So though this show is off of Broadway, they have made sure that fans can still witness such a spectacle. So grab a ticket, popcorn, and a friend, and set off to watch one of the most memorable musicals immortalized on the big screen.