Welcome to the future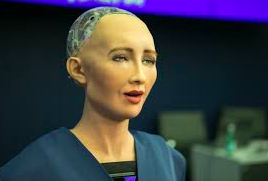 Ever wanted to a robot doll of your own? Well, this might just become a reality.
With recent developments in Artificial Intelligence (AI) technology, everyone is wondering if the future with robots and super tech is really here or not, and Hanson Robotics is proving exactly that. The company has been growing popular for its product "Sophia," which is a robot.
SHS students, too, have a unique opinion on this.
"If more people get introduced to coding and learn how to code, it will surely help advance the field of Computer Science and Robotics," said Aryan Vaidya, 10.
If you have not heard of that name, then search it up right now because it is one amazing creation. The robot, named Sophia, can talk, tell jokes, and is marketed as a lot of fun to interact with.
Sophia appeared on the "Tonight Show with Jimmy Fallon" and has been described as "a very pretty robot" and "basically alive" by Fallon.
Since then, she has been on many shows and events. She is the first robot to get a credit card and gain citizenship in Saudi Arabia.
In November 2018, the Hanson Robotics' family increased as they introduced a smaller version of Sophia, which is now known as "little sister" of Sophia, on "The Tonight Show." The bot is 14 inches tall and shares many capabilities with her "big sister" like facial expressions, dancing, walking, telling jokes and more.
However, Hanson Robotics says that there is a purpose beyond their new product, which can be bought and is targeted towards young children. The purpose is to teach programming in a fun and interactive manner to young kids. Basically, she will teach kids how to code.
The little bot can cost between $99 and $149, depending on when it is ordered, and should be expected to be delivered in December 2019.
---
Sources :-